Portfolio: Residential
Private Residence – Chesapeake, VA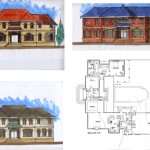 This Mediterranean style 4,000 sq. ft. house was designed for a couple in transition. With the children gone, the house had to be able to accommodate them during visits, while allowing for the parents to live mainly on the ground floor. The open courtyard, and enclosed pool and garden provide privacy while allowing for openness and light throughout. The façade studies present different looks from the more common Colonial architecture in the area, without looking out of place, or affecting re-sale value.
Private Residence and Coffee Shop – Old Town Portsmouth, VA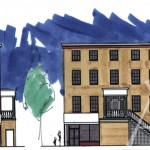 Interior and exterior renovation and restoration of a historical building on High Street, Old Towne, Portsmouth
The vacant upper portion of the building was converted to residential use, while the downstairs storefront was rented out as a coffee shop.
Private Residence – New York, NY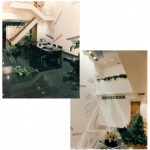 Conversion of a 19th century brownstone on the East side of Manhattan into a single family residence
The facade was redesigned as well as the floor layout. A central atrium was created with open walkways tying the front and back floor levels. The Master Bedroom suite was on two floors with the sleeping area on the 2nd floor and the Master Bath, Dressing Room area on the floor above connected by a private, spiral staircase. A studio apartment for the family's college age son was created on the front at the garden level.